Home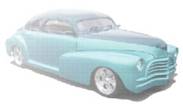 Have you been looking for car accessories from the 1950's, 60's and 70's with no success? Look no further! At Cruisin Classics, we offer a large variety of your favorite, hard to find items. If we don't have what you are looking for, let us know and we will try to locate it for you.
Dukes of Hazard Dixie Horn!!!
This is the original Dukes of Hazard Dixie horn. This is the same horn used in the movies and on the T.V. series. The kit comes complete with 5 horns, air compressor and all mounting hardware. More>

Price: $75.00 each Shipping is FREE!!!!
The Story of the Shrunken Heads…

The Jivaro are a South American tribe of people who live on the eastern slopes of the Andes Mountain Chain in Northern Peru and Southeastern Ecuador, north ... More>
Fuzzy Dice
Whether its an American Flag, Flames, or Traditonal Colored Fuzzy Dice, this is a hot rod must have! Price: $5.00 pr.
More>


Suicide Knobs
Available in both flip down
or stationary designs, we
have a large selection of knobs to choose from including Chevy, Dodge, AMC, Buick, and many novelty designs too!
Price: $15.00 standard
$25.00 flip down
More>


Breezies
Available in a variety of colors these Breezies attach to the vent window of your cruiser to deflect the wind!
Price: $12.95 pair.
More>
Dice Door Lock Pulls
Available in a variety of
of colors and styles these
door locks give that finishing touch to your classic car.
Price: $6.00 pr.
More>
Hubcaps
Available in a variety sizes and designs, we carry a great selection
including Officially Licensed Ford Reproduction Hubcaps.
Price: Set of 4 Starting at $65.00 and up.

Hubcaps are sold is sets for four each and require a $20 shipping fee inside the USA all other locations need to email us at cruisin.classics@comcast.net for shipping fee's outside the USA.
Flame Thrower Kit
This is the same unit as seen in the movie "Fast and the Furious" and "Gone in 60 Seconds" Comes with everything you need except extra coil and spark plugs. Easy to follow directions make this kit a snap to install. Not recommend for cars with Catalytic Converters or electric fuel pumps.
Price: $85.00
More>
Shrunken Heads providing the very best in Hot Rod Accessories, Rat Rod Accessories, Car Accessories, Curb Feelers, Suicide Knobs, Gear Shift Knobs, Fuzzy Dice, Dice Door Lock Pulls, Licence Plate Bolts & Frames, Tiki, Hub Caps, Mirrors, Pedals, Breezies, Horns, Bobbing Heads and of course Shrunken Heads!